Impact of removal pitfall trapping on the community of shrews (Mammalia : Soricidae) in two African tropical forest sites
Removal trapping is still used for the study of tropical African shrews biodiversity and ecology, because shrew species identification requires cranio-dental analyses due to the existence of sibling species. Pitfall trapping has been found to be the most effective protocol to collect shrews. However, the impact of removal pitfall-trapping on density and diversity of shrew species is still unknown. In this paper, we test this impact on two African tropical forest shrew communities, by comparing the results of two trapping sessions conducted in two consecutive years. Our results support the view that removal trapping, with conditions described in this paper, does not adversely affect local population numbers and shrew species richness.
L'identification de la plupart des espèces de musaraignes tropicales africaines ne peut se faire qu'après analyses crânio-dentaires, en raison de l'existence d'espèces jumelles. C'est pourquoi, l'euthanasie de ces micro-mammifères reste nécessaire à l'étude de leur biodiversité et de leur écologie. Le piégeage « pitfall » est reconnu comme la méthode la plus adaptée à la collecte des musaraignes; cependant, l'impact de ce type de piégeage, avec euthanasie des spécimens, sur la densité et la diversité des musaraignes reste méconnu. Nous testons ici cet impact sur deux communautés de musaraignes de forêt tropicale africaine, en comparant les résultats obtenus lors de deux sessions de piégeage effectuées, à la même place, deux années consécutives. Nos résultats montrent que le piégeage, dans les conditions décrites dans ce papier, n'affecte pas la densité ou la diversité des musaraignes.
Fichier principal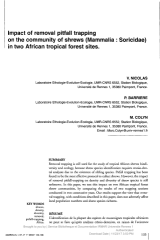 Nicolas_et_al_-_Mammalia-2003.pdf (973.85 Ko)
Télécharger le fichier
Origin : Publisher files allowed on an open archive