Une nouvelle puce du genre Allopsylla Beaucournu et Fain, 1982 (Siphonaptera : Ischnopsyllidae) en République Centrafricaine, sur un chiroptère Molossidae méconnu
A pair of Allopsylla lobayensis Beaucournu & Barrière, new species were collected the first of November 1999 in Ngotto forest, in the south-western part of the Lobaye basin, Central African Republic (CAR). The host specimen, a little known molossid bat (Myoplerus whitleyi), constitutes the first record of this species in CAR. The new flea species appears taxonomically close to A. hetera Beaucournu & Fain, 1982, one of the two other Allopsylla species, previously know from other faunal regions (A. alloides in Nigeria and A. hetera in Democratic Republic of the Congo). The parasitism of three distinctly different hosts by the three known Allopsylla species raises questions regarding the host-parasite specificity of this group.
Un couple d'Allopsylla lobayensis Beaucournu et Barrière sp. n. a été récolté le 1er novembre 1999 en forêt de Ngotto, dans la partie sud-ouest du bassin de la Lobaye, République Centrafricaine (RCA). Le spécimen hôte, un chiroptère molossidé méconnu (Myopterus whitleyi), constitue la première collecte de l'espèce en RCA. La nouvelle puce s'apparente à A. hetera Beaucournu et Fain, 1982, l'une des deux autres espèces du genre Allopsylla connues jusqu'alors de régions fauniques distinctes (A. alloides au Nigéria et A. hetera en République Démocratique du Congo). L'identification de trois hôtes parmi les trois espèces d'Allopsylla interpelle sur la spécificité hôte-parasite au sein de ce groupe.
Fichier principal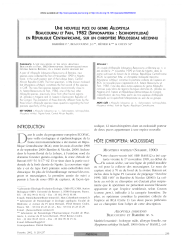 Barriere_et_al_-_Parasite-2002.pdf (7.36 Mo)
Télécharger le fichier
Origin : Publisher files allowed on an open archive