Niche écologique et diversité des espèces sympathiques dans le genre Cercopithecus
It is difficult to separate the ecological niches of three sympatric species of Cercopithecus living in North-East Gabon on the basis of the niche parameters usually studied by prima- tologists : their habitats are very similar, their activity rhythms are the same and the vegetation layers they frequent overlap broadly. The three species have a very similar diet at the times of the year when food is readily available. The inter-specific differences in diet only become apparent during the " lean season ". At that critical period of the yearly cycle, the two species (C. nictitans and C. pogonias) whose habitat is the most similar, are also those whose diet is the most different. Food preferences between C. nictitans and C. cephus on one side, C. pogonias and C. cephus on the other side are not so marked, but C. cephus tends to forage in the lowest layers of the forest vegetation and in the areas where foliage density is the highest. The three sympatric Cercopithecus species appear to feed upon the same kinds of fruits. They differ however in their preferred animal prey. The three Cercopithecus species concerned also frequently live in " mixed groups " in the same area. Such an inter-specific association does not appear to reduce the niche breadth of the participating species, and no competition was observed. The formation of mixed groups of sympatric forest monkeys might then be considered as an adaptative strategy to optimize the uti lization of available forest resources, three closely related but complementary species being more efficient resource-users than a single " generalist " one.
Si, parmi les sept espèces de Cercopithecinés sympatriques qui habitent le N.-E. du Gabon, certaines d'entre elles ont des niches écologiques bien différenciées (Gautier-Rion, 1978), trois retiennent particulièrement l'attention par l'imbrication étroite de leurs modes de vie qui ne permet pas aisément de les répartir écologiquement à partir des critères habituels retenus pour ce genre d'analyse : habitat, niveau de réquentation, régimes, etc. Ces trois espèces constituent ainsi un matériel de choix pour une réflexion sur la notion de niche écologique chez les Primates, et permettent de s'interroger sur le problème de la diversité des espèces sympatriques en milieu équatorial.
Fichier principal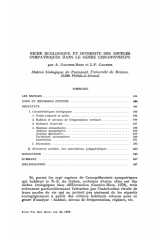 Gautier-Hion_&_Gautier_-_Terre_Vie-1979.pdf (1.23 Mo)
Télécharger le fichier
Origin : Publisher files allowed on an open archive