L'écologie du talapoin du Gabon
A 20 months' field-study of the Talapoin Miopithecns talapoin was carried out between 1966 and 1970 in North-East Gabon. Twenty five troops were observed, all of them in inundated rain forest along rivers. Seventeen of these troops were located near human settlements. The communal night roost of each troop was invariably found near water. The sleeping sites were very stable throughout the year, though some seasonal changes may occur. The troop size ranged from 59 to 80 individuals, and ave raged 63 members. Troops living near human settlements were consistently larger. Talapoins live in multimale groups where adult males act as leaders during troop movement and as « watch-dogs » at night. Within the group, females with their infants and year-old juve niles form definite subgroups, at least during the night. Among adults, females outnumber males. Talapoins breed seasonaly in N.E. Gabon. The birth season of a given troop lasts for about 2 months during the period November- April. Most adult females give birth to one infant every year. The natality rate is therefore high, troops living near human settlements increasing by 11.7 to 25.7 % a year. Talapoins are mainly frugivorous but also eat a number of insects. Their daily pattern of locomotor activity shows two defi nite peaks ; the one between early morning and 10.30 hours, the other between 13.30 and 18.30 hours. The average distance travelled by a group during a day is 2,323 m (with a range from 1,500 to 2,950 m). During their daily wanderings, talapoins do not venture far from a river (never more than 450 m). The home ranges of troops, established by mapping the daily movements of social groups at different times of the year, range from 1.0 to 1.4 km2. Home ranges include both the inun dated forest where the night roosts are located, secondary growth forests and even plantations. The percentage utilization of the inundated forest is higher than expected from its size. About 70 % of the food consumed is found in this particular habitat. Variations in size and location of the Ntsi-Belong troop between 1966 and 1968 can be related to food abundance and availability. No territorial behaviour has been observed.
Ce travail est le résultat de vingt mois d'observations effectuées dans la région de Makokou (Gabon). Divers campements, établis notamment à Ntsi-Belong et Ebieng, ont permis de séjourner pendant des périodes prolongées à proximité de certaines bandes. Par ailleurs, j'ai exploré à pied et en pirogue les alentours de la station. C'est ainsi qu'une étude extensive a été faite le long des trois principaux axes de pénétration de la forêt, dans un rayon de trente à quarante kilomètres. Les recherches détaillées ont porté sur trois bandes proches de Makokou. Les observations faites pendant la journée ont été complétées par d'autres effectuées de nuit ; ce travail nocturne représente environ 25% du total des heures passées sur le terrain. Ces observations écologiques ont été menées de pair avec l'étude de l'organisation sociale de la troupe et celle du répertoire comportemental de l'espèce ; leurs résultats font l'objet d'autres publications (Gautier-Hion, 1968, 1970 et 1971a). Par ailleurs, le problème de l'association du Talapoin avec les autres espèces de Cercopithèques de la région a été abordé en collaboration avec J.P. Gautier (Gautier et Gautier-Hion, 1969).
Fichier principal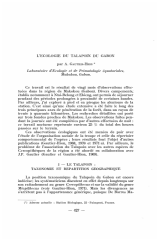 Gautier-Hion_-_Terre_Vie-1971.pdf (4.88 Mo)
Télécharger le fichier
Origin : Publisher files allowed on an open archive