La dissémination des graines par les cercopithécides forestiers africains
An attempt is made to estimate the relative frequency of synzoochory and endozoochory of seeds by five species of African forest cercopithecines, using 250 stomach contents from wild monkeys hunted by native poachers around Makokou, NE Gabon. It is shown, (1) that the mean frequency of endozoochory by the species concerned is relatively low, 37.2% ; (2) that the mean frequency of destruction of ingested seeds increases with their size ; (3) that ingested seeds of a given plant species can be dispersed either by endozoochory or synzoochory by a same primate consumer ; and (4) that phylogenetically-related monkeys can disperse in different ways the seeds of a given plant species. Consequently, the advisability of classifying plants into synzoochorous or endozoochorous species is questioned.
Un nouvel examen des 250 contenus stomacaux ayant servi à l'analyse des régimes de cinq espèces de Cercopithecinés, permet de statuer sur l'importance relative de la synzoochorie et de l'endozoochorie chez ces primates. On montre que : le taux moyen d'endozoochorie est relativement faible ; que les graines ingérées subissent une destruction d'autant plus importante qu'elles sont de grande taille ; qu'un même consommateur a le plus souvent plusieurs actions simultanées sur les graines ; que des consommateurs phylogénétiquement proches peuvent agir différemment sur les graines d'une même espèce végétale et être ainsi des « disperseurs » de qualité très différente. Tous ces éléments font qu'il est difficile de classer les plantes en espèces synzoochores et espèces endozoochores et confortent le fait qu'il n'y a pas de coadaptation étroite entre plantes et animaux consommateurs.
Fichier principal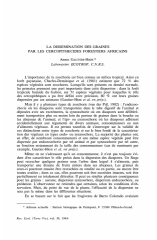 Gautier-Hion_-_Terre_Vie-1984.pdf (2.06 Mo)
Télécharger le fichier
Origin : Publisher files allowed on an open archive