Le premier avis de la formation plenière du tribunal international du droit de la mer : entre prudence et audace
On 28 March 2013, the International Tribunal for the Law of the Sea received a request from the Sub-Regional Fisheries Commission to render an Advisory Opinion on questions related to illegal, unreported and unregulated (IUU) fishing activities. The ITLOS delivered its opinion on 2 April 2015. The latter is of special relevance in at least two respects. First, ITLOS states unambiguously that the full Court has jurisdiction to provide an Advisory Opinion. This clarification was expected in so far as the United Nations convention on the law of the Sea only grants advisory jurisdiction to the Deep Seabed Disputes Chamber and not to the full Tribunal. Second, the Tribunal provided substantive clarifications with regard to the rights and obligations of the costal state and the flag state in IUU fishing activities. These clarifications are welcomed and should reinforce the fight against this scourge.
Le 27 mars 2013, la Commission sous-régionale des pêches a saisi le Tribunal international du droit de la mer d'une demande d'avis consultatif sur des questions se rapportant à la pêche illicite, non déclarée, non réglementée (pêche INN). Cette demande a donné lieu à un avis rendu par le TIDM le 2 avril 2015. Ce dernier est digne d'intérêts à au moins deux égards. En premier lieu, le Tribunal affirme, sans aucune ambigüité, la compétence de sa formation plénière pour rendre des avis consultatifs. Cette clarification était attendue dans la mesure où la convention des Nations Unies sur le droit de la mer confère une compétence consultative non pas au Tribunal plénier mais à la Chambre pour le règlement des différends relatifs aux fonds marins. En second lieu, le Tribunal a apporté un certain nombre de clarifications sur les droits et les obligations des États côtiers et des États du pavillon en matière de pêche INN. Ces clarifications apparaissent bienvenues et devraient permettre de renforcer l'efficacité de la lutte contre ce fléau.
Fichier principal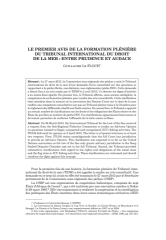 AFDI Premier avis de la formation pleniere 2015.pdf (1.15 Mo)
Télécharger le fichier
Origin : Files produced by the author(s)