The shop-floor unionism in kirchnerist Argentina: the autonomy in dispute
El sindicalismo de base en la Argentina kirchnerista: la autonomía en disputa
Le « syndicalisme de base » dans l'Argentine kirchneriste. Une autonomie en question
In the course of last ten years, the dynamism of the trade union Argentine movement was obtained from, on the one hand, the reaffirmation of the political roll of the trade union directions and the increase of the collective bargaining and, on the other hand, the renovating of the conflict in the workspaces which led to the appearance of a shop-floor unionism provided with specific characteristics: generational renewal, anti-bureaucratic inclination and relative presence of Trotskyist groups. These two concomitant processes raised the question of the constitution of a more or less stable trade union autonomous pole, feeding a base renewal of the trade union Argentine movement. From this perspective, the paper interrogates the formation of a set of experiences that renew the traditional practices and investigates on the existence of intermediate zones between the trade union autonomy and cooptation.
En el curso de los últimos diez años, el dinamismo del movimiento sindical argentino se consiguió a través de, por un lado, la reafirmación del rol político de las direcciones sindicales y el aumento de la negociación colectiva centralizada y, por otro lado, la recomposición dela conflictividad en los espacios de trabajo, que dio lugar a la aparición de un sindicalismo de base dotado de características específicas: renovación generacional, inclinación anti-burocrática y presencia relativa de la izquierda trotskista. Estos dos procesos concomitantes ponen en discusión la constitución de un polo sindical autónomo más o menos estable, alimentando una recomposición « por abajo » del movimiento sindical argentino. Desde esta perspectiva, el artículo interroga la formación de un conjunto de experiencias que renuevan las prácticas tradicionales y a su vez indaga sobre la existencia de zonas intermedias entre la autonomía y la cooptación sindical.
Au cours des dix dernières années, le dynamisme du mouvement syndical argentin s'est affirmé à travers, d'une part, la réaffirmation d'un rôle politique des directions syndicales et l'augmentation de la négociation collective centralisée et, d'autre part, la recomposition de la conflictualité dans les espaces de travail, ayant donné lieu à l'apparition d'un « syndicalisme de base » doté de caractéristiques spécifiques comme le renouveau générationnel, une inclinaison antibureaucratique et une présence relative de la gauche trotskiste. Ces deux processus concomitants interrogent sur la constitution d'un pôle syndical autonome plus ou moins stabilisé, venant nourrir une recomposition « par le bas » du mouvement syndical argentin. Dans cette perspective, l'article analyse la formation d'un ensemble d'expériences qui renouvellent les pratiques traditionnelles et identifie l'existence de zones intermédiaires entre autonomie et cooptation.
Fichier principal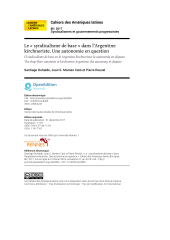 Duhalde - syndicalisme de base.pdf (454.96 Ko)
Télécharger le fichier
Origin : Publisher files allowed on an open archive