Patrimoine et commémorations dans l'Italie libérale : généalogie de l'exposition régionale de 1911 à Rome
From a comparative perspective, this article aims to analyze the architecture edified for the regional exhibition in Rome in 1911 (as part of the commemoration of the 150th anniversary of the Italian Unification), in relation to the educational policy delevopped by the government during the età giolittiana. The 1911 exhibition was made up of several pavilions designed by regional committees and representing the artistic specificity of each region. Most of the pavilions adopted forms referring to the late Middle Agesand early Renaissance art because of a set of identity references related to Communal Italy. By offering a journey through Italy, the organizers went beyond the opposition between local and national scale, and put the Italian regional diversity in the service of national unity. A sense of local identity was used as a vector of integration into a nation primarily defined by the artistic inclinations of the Italians.
À partir d'une approche comparatiste, cet article se propose d'analyser l'architecture produite pour l'exposition régionale organisée à Rome en 1911 (dans le cadre des commémorations du cinquantenaire de l'unification de l'Italie), au regard de la pédagogie politique engagée par le gouvernement durant l'età giolittiana. Cette exposition se composait d'un ensemble de pavillons conçus par des comités régionaux afin de représenter le caractère artistique prétendument propre à chaque région. La forme adoptée par la plupart des pavillons faisait référence à l'art de la fin du Moyen Âge et du début de la Renaissance en raison d'un ensemble de références identitaires rattachées à l'Italie des communes. En proposant un voyage à travers l'Italie, les organisateurs entendaient dépasser l'opposition entre la dimension locale et nationale, et mettre la diversité régionale italienne au service de l'unité de la nation. Le sentiment d'appartenance local devait ici servir de vecteur d'intégration à une nation définie avant tout par les inclinaisons artistiques du peuple italien.
Fichier principal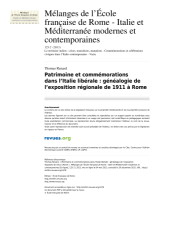 mefrim-1478-125-2-patrimoine-et-commemorations-dans-l-italie-liberale-genealogie-de-l-exposition-regionale-de-1911-a-rome.pdf (165.19 Ko)
Télécharger le fichier
Origin : Publisher files allowed on an open archive