Health benefits of dairy lipids and MFGM in infant formula
Quels bénéfices santé de la matière grasse laitière et des membranes des globules gras du lait (MFGM) dans les préparations pour nourrissons ?
Human breast milk (HBM) is the gold standard for the early nutrition of the neonates. The best way to improve infant formulas (IFs) is to mimic both the composition and the structure of HBM components. Supplementation of IF with dairy lipids or bovine milk components such as milk fat globule membrane (MFGM), in partial replacement of plant oils that are currently mainly used, has health benefits for infants. In this article, results of clinical studies on the impact of IF supplementation with MFGM and dairy lipids on psychomotor development and infectious disease prevalence in infants, are reviewed and supported by recent pre-clinical studies. Numerous human studies have reported beneficial effects of MFGM supplementation on neurocognitive development and protection against infectious agents without deleterious impact on growth. Based on rodent and porcine studies, benefits of adding bovine MFGM and dairy lipids in IFs on gut digestion, physiology and protection against pathogens and inflammatory challenges have also been highlighted. However, more randomized controlled trials testing IF supplementation with bovine milk fat, and specifically apolar lipids and associated glycoproteins, are to be performed to increase scientific-based knowledge, address safety concerns, and study its potential programming role of adult health.
Le lait de femme est l'aliment le mieux adapté aux besoins du nouveau-né. Il est ainsi l'aliment de référence tant du point de vue de sa composition nutritionnelle que de celui de ses propriétés fonctionnelles, pour améliorer la formulation des préparations pour nourrissons (PPN). L'incorporation dans les PPN de matière grasse provenant de lait de vache ou de certains de ses composants tels que les membranes des globules gras du lait (MFGM pour milk fat globule membrane), en remplacement partiel des huiles végétales qui sont actuellement principalement utilisées, a des effets bénéfiques sur la santé du nouveau-né. Dans cette revue, les résultats des études cliniques sur l'impact des MFGM et de la matière grasse laitière introduits dans les PPN sur le développement psychomoteur et la prévalence des maladies infectieuses et digestives infantiles sont rapportés et étayés par les résultats d'études pré-cliniques récentes. L'incorporation de MFGM dans les PPN apporte un bénéfice sur le développement neurocognitif de l'enfant et une protection vis-à-vis d'agents infectieux, sans modifier sa croissance. L'effet bénéfique de la supplémentation des PPN avec de la matière grasse laitière et des MFGM d'origine bovine sur la digestion et la physiologie intestinale, ainsi que la protection contre des challenges inflammatoires est par ailleurs mis en évidence dans des études précliniques réalisées chez les rongeurs et le porc. Des études complémentaires restent nécessaires pour affiner nos connaissances sur les mécanismes à l'origine de la fonctionnalité spécifique de la matière grasse laitière et en particulier des lipides apolaires et des glycoprotéines associés aux MFGM, et sur leurs effets potentiels sur la programmation de la santé de l'adulte.
Fichier principal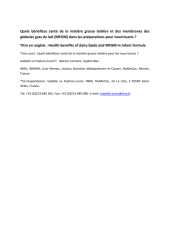 Le Huerou-Luron et al_cahiers de Nutrition et de Diététique 2018_final draft post-refereeing.pdf (539.71 Ko)
Télécharger le fichier
Origin : Files produced by the author(s)