Des pierres ornées en position secondaire ?
A slab decorated with a bas-relief nipple and six small slabs with cup marks were unearthed during excavations. The simplicity of the nipple symbol (the same as the cup marks but in relief) only allows a superficial idea of its meaning. However, this symbol can be found on megalithic monuments sometimes isolated, but usually in pairs, where it is generally interpreted in this case like a pair of breasts. The supports of cup-marked slabs are small plates of soft and friable rock (gneiss or micaschist), materials incompatible with the anvil bipolar technique or other crushing of hard materials. In addition, the cup marks were carved carefully. These elements differ in principle to a utilitarian function of these objects. If the cup marks are well represented on outcrops or the megalithic monuments, cases of portable cup-marked stones attributed to the Neolithic or the Bronze Age are rare in Brittany. We will try to examine some reported cases and replace small cup-marked slabs of Beg ar Loued in a broader context. Finally, it is clear that small slabs are not in a primary position; even if there is doubt about the slab adorned with a nipple, it also seems to be reused
Une dalle ornée d'un mamelon en bas-relief et six petites dalles à cupules ont été mises au jour lors des fouilles. La simplicité du symbole du mamelon (à l'instar des cupules mais en relief) ne permet pas de longs développements quant à sa signification. En revanche, ce symbole se retrouve sur des monuments mégalithiques, parfois isolé, mais le plus souvent en couple, où il est généralement interprété dans ce cas comme une paire de seins. Les supports des dalles à cupules sont de petites plaquettes en roches tendres et friables (gneiss ou micaschiste), matériaux incompatibles avec le débitage sur enclume des galets de silex ou tout autre concassage de matières dures. Les cupules ont été creusées avec soin. Ces éléments écartent donc a priori une fonction utilitaire de ces objets. Si les cupules sont bien représentées sur les affleurements ou les monuments mégalithiques, les cas d'art mobilier attribués au Néolithique ou à l'âge du Bronze sont des plus rares en Armorique. Nous tâcherons d'examiner les quelques cas répertoriés et de replacer les petites dalles de Beg ar Loued dans un contexte élargi. Enfin, il est patent que les petites dalles ne sont pas en position primaire ; même si le doute est permis concernant la dalle ornée d'un mamelon, elle semble aussi être en réemploi.
Fichier principal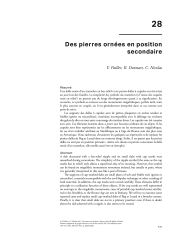 035_C4.28_Pailler_Donnart_Nicolas.pdf (5.19 Mo)
Télécharger le fichier
Origin : Publisher files allowed on an open archive