Use of a skin perforator flap pedicled by the intercostal muscle for reconstruction of a posterior cervical defect
A posterior cervical defect featuring exposed spinal and occipital bone can be covered in various ways. The "ideal" flap should be a low-morbidity, pedicled locoregional flap that can reach the occiput. Cervical adjuvant radiation therapy may limit the coverage options, because many pedicles are located in areas that are often irradiated. Here, we describe a new surgical technique; we used a skin perforator flap pedicled by the intercostal muscle to cover a posterior cervical defect in a patient with metastatic squamous cell lung carcinoma. This technique is a valuable option; the flap originated from outside the irradiated area and reached the occiput. It adds to the options for cervical coverage in patients who require head-and-neck reconstruction.Evidence-Based MedicineLevel V: opinions of respected authorities, based on clinical experience, descriptive studies, or reports of expert committees.
Les pertes de substances cervicales postérieures avec exposition osseuse peuvent être couvertes par plusieurs techniques. Le lambeau idéal doit avoir une faible morbidité, réalisable facilement, être un lambeau pédiculé locorégional et pouvoir atteindre l'occiput. En cas de radiothérapie cervicale, certains lambeaux classiques permettant de couvrir ce type de perte de substance peuvent avoir leur pédicule endommagé. Dans cet article, nous rapportons l'utilisation d'un lambeau perforant thoracique latéral pédiculé par les muscles intercostaux pour couvrir un defect cervical postérieur dans les suites d'une ostéosynthèse d'une métastase d'un carcinome pulmonaire. Ce lambeau est une alternative aux lambeaux traditionnels dont le pédicule est en dehors du champ d'irradiation. Il offre une option supplémentaire pour traiter ces defects.
Fichier principal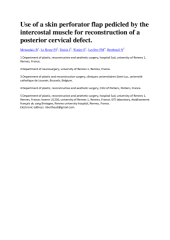 Menardais et al-2020-Use of a skin perforator flap pedicled by the intercostal muscle.pdf (1017.34 Ko)
Télécharger le fichier
Origin : Files produced by the author(s)