Les pratiques RH au sein des petites associations de l'économie sociale et solidaire : Défaut, déni ou défi d'employeurabilité ?:
In order to highlight how managers embody the employer function, beyond their legal status, this article proposes to study employer's ability, which is understood as the manager's ability to be an employer. Employer's ability, which is not well researched in academic literature, should be investigated, in particular because it helps to identify the tension that may exist between the legal status of an employer—defined by the rights and obligations owed to the employee—and his role—which is more dependent on its ongoing management. However, this role of employer can sometimes be difficult to carry out, especially by chairpersons of small associations, whose position as employer may conflict with that of a volunteer. Once we have defined the basis for employer'sability, we approach it from HR practices and the various tasks that make up its scope of activity. This study on small associations, highlights a continuum of three employer's ability configurations, each corresponding to an evolutionary perception of the HR function by the leader, the employee and the association's office. By contributing to the field of HRM and the area of the social economy, this research offers managerial implications and opens up research opportunities that will be discussed.
Cet article propose d'étudier l'employeurabilité – entendue comme la capacité du dirigeant à être employeur – afin de mettre en lumière la façon dont les dirigeants incarnent la fonction employeur, au-delà de leur statut juridique.L'employeurabilité, peu travaillée dans la littérature académique, mériterait d'être investiguée, notamment parce qu'elle permet d'identifier la tension pouvant exister entre le statut juridique d'employeur – délimité par les droits et obligations dues envers le salarié – et le rôle d'employeur – tenant davantage à son management pérenne. Or, ce rôle d'employeur peut parfois être difficilement assumé, notamment par les présidents de petites associations, dont la position d'employeur est susceptible d'entrer en contradiction avec celle de bénévole.Après avoir défini les fondements de l'employeurabilité, nous l'approchons à partir des pratiques RH et des différentes tâches constitutives de son périmètre d'activité. Le terrain d'étude, celui des petites associations, met en évidence un continuum de trois configurations d'employeurabilité, correspondant chacune à une perception évolutive de la fonction RH par le dirigeant, le salarié et ou encore le bureau de l'association. En contribuant au champ de la GRH et de celui des organisations en économie sociale et solidaire, cette recherche propose des implications managériales et ouvre des perspectives de recherches qui sont discutées.
Fichier principal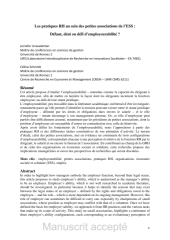 Urasadettan-Schmidt-2021-Les pratiques RH au sein des petites associations de l'économie sociale et solidaire.pdf (884.5 Ko)
Télécharger le fichier
Origin : Files produced by the author(s)