L'APSA : un concept périmé avant même d'avoir fonctionné ?
The birth of the African Union in Durban Conference, South Africa, 2002, was marked by the intention of African leaders to solve security issues of their continent by themselves. That is why, simultaneously that African Union took over from Organisation of African Unity, the Conference of Durban established a collective security system : the African Peace and Security Architecture (APSA). Unfortunately this system does not work. The first part of the presentation is an assessment of APSA, which leads to conclude that the fact that APSA does not fulfill the functions assigned to it, is not in itself shocking if one takes into account that the task is immense, and that occidental leaders confronted to a similar situation would not have better results. The question is rather whether this system designed fifteen years ago, has a future, or whether it should be rethought. Secondly, the presentation demonstrates that several systemic obstacles are impeding the operationality of the african collective security system. Some are linked to fundamental determinisms insofar as the models from which APSA was designed (the United Nations' Peacekeeping system and the European Union's Common Security and Defense Policy) are disconnected with the specific needs of a continent undermined by an endogenous conflictuality. Other systemic barriers to the operationality of the system are particularly related to African realities and their impact on malfunctions of APSA. Without claiming to provide a solution to these malfunctions, the paper concludes, however, that APSA, because it is too ambitious, is fundamentally unrealistic ; that peace and security are long-term objectives and are requiring first the strengthening of UNO's direct commitment in the management of peacekeeping, and subsequently a strengthening of African states as providers of public services.
Dans la première partie de cette étude, Patrick Klaousen dresse un bilan sévère de l'APSA (Architecture de Paix et de Sécurité en Afrique).Toutefois, le fait que cette dernière ne remplisse pas les fonctions qui lui sont assignées n'a en soi rien de choquant, tant la tâche est immense. La question serait plutôt de savoir si ce dispositif, conçu il y a une quinzaine d'années, a un avenir ou bien s'il doit être repensé. C'est la seconde option qui retient l'attention de l'auteur qui dans un second temps, s'applique à montrer que des obstacles systémiques entravent durablement l'opérationnalité du dispositif. Certains sont liés à des déterminismes fondamentaux dans la mesure où les modèles à partir desquels l'APSA a été conçue (ONU et PSDC européenne) sont en décalage avec la nature même de l'UA en tant qu'organisation régionale à rhétorique intégrative. D'autres obstacles systémiques sont quant à eux plus particulièrement liés aux réalités africaines et à leur impact sur les dysfonctionnements du dispositif. Sans pour autant prétendre apporter une solution à ces dysfonctionnements, l'étude conclut néanmoins que l'APSA, parce qu'elle est trop ambitieuse est foncièrement irréaliste ; que la paix et la sécurité sont des objectifs de long terme nécessitant une action empreinte à la fois de modestie et d'audace, qui passe par un renforcement de l'État en tant que pourvoyeur de services publics.
Fichier principal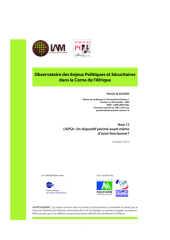 note12_observatoire.pdf (292.98 Ko)
Télécharger le fichier
Origin : Files produced by the author(s)